Release Blitz for Crushing on the Cop by Piper Rayne
Cristian Bianco has two things against him—he's a police officer and he's a police officer in the 18th District…meaning my dad is his boss.
Growing up as the Commander's daughter and having his magnifying glass focused on everything I did was more than I could handle.
Now, I'm out on my own, living by my own rules. Well, mostly. The 'job' I created for myself has me in some hot water and my exit strategy isn't exactly working out how I'd hoped.
Which is why when my best friend bids on Cristian for me at a charity bachelor auction, I'm not having it. A man in blue is only going to be one thing for me—a problem.
Except after his brother starts dating my best friend he becomes harder to ignore. The eight-pack abs. The sense of style only a girl like me can appreciate. The way he puts his family first. It all adds up to make him one irresistible prospect and has me wondering if he knows how to use those handcuffs the right way—by locking my wrists to his headboard.
My Review: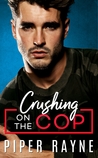 Crushing on the Cop by Piper Rayne
My rating: 5 of 5 stars
Even though this is book 2 in the series, it's the first I've read by this writing duo. But I couldn't not jump at the chance to read this book. The blurb drew me in, and I just knew I'd love it. A hot cop, a bit of humor, some romance. How can you go wrong?!? I was a little concerned, since this is book 2, but I had no trouble keeping up. However, now I want to go back to read Maddy and Mauro's story!
Cristian is a police officer, second son in Bianco family. He is dependable, strong, and determined. He took one look at Vanessa and knew she was the one for him. Vanessa, on the other hand, is the only daughter of the Police Commander, her mother having died when she was young. She is fiercely independent, and doesn't let anyone get close.
Ok, so I have to admit it. I really, really didn't like Vanessa to begin with. She was snarky, manipulative, and just plain mean to Cristian. As sweet as he was, I just didn't get why she was that way with him. And I could tell early on that she was hiding something, I just didn't know what. But the more I read, the more I realized that there is a reason that she is that way.
The characters in this series are tightly knit, and the book itself is hilarious. I spent a lot of the story laughing at the interactions between the characters. There are a few tense moments, but for the most part, it's a fun read that could put anyone in a better mood!

Piper Rayne, or Piper and Rayne, whichever you prefer because we're not one author, we're two. Yep, you get two USA Today Bestselling authors for the price of one. Our goal is to bring you romance stories that have "Heartwarming Humor With a Side of Sizzle" (okay…you caught us, that's our tagline). A little about us… We both have kindle's full of one-clickable books. We're both married to husbands who drive us to drink. We're both chauffeurs to our kids. Most of all, we love hot heroes and quirky heroines that make us laugh, and we hope you do, too.
Goodreads | Facebook | Instagram | Pinterest | Bookbub | Website
Join our newsletter and get 2 FREE BOOKS!