Boyfriend for Hire by Kendall Ryan
Blurb:
I'm the guy you call when you need to impress your overbearing family, your boss, or your ex. Yeah, I'm a male escort, but not just any escort, I'm the escort. The one with a mile-long waiting list and a pristine reputation that's very well-deserved.
I'm the guy who'll make you feel beautiful, desired, and worshipped . . . all for a steep price. I'm hired to make you shine, and I always deliver.
I'll be whatever you want me to be for one night—except my true self. This is just a job, a role I play to earn a paycheck.
But I'm not the guy who falls for a client. Not once in six years.
And then I meet Elle. Her friend has hired me to escort her to a wedding, but Elle doesn't know we're just pretending.
There's a fire between us I never expected. A connection I haven't felt in so long. One kiss, and I'm losing all control.
But what will happen when she finds out who I really am?
My Review: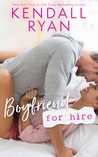 Boyfriend for Hire by Kendall Ryan
My rating: 5 of 5 stars
I have to admit. I was kinda skeptical about this book when I first read the blurb. A romance story about a male escort?!? I can only imagine the kind of problems he runs into! But, it's by an author that never fails to deliver an amazing book, full of laughs and fun, so I will give it a go. Oh boy, was I in for a surprise! This book was really great, everything I expect from this author, and so much more!
Elle just went through a bad break-up. And now she has to see her ex with his new girlfriend…. at her brother's wedding! A friend comes up with the idea of hiring a male escort to be her date for the wedding, but doesn't tell Elle about the escort part. Elle thinks she's on a blind date, with a really hot guy that she has a super hot connection with!
This book was full of surprises, and I couldn't help but laugh. I had my doubts that they would be able to work things out, but they were so perfect for each other! Their story was definitely different, but still a fun book!