Sale Blitz for the Dangerous Daddy Boxset by Zoe Blake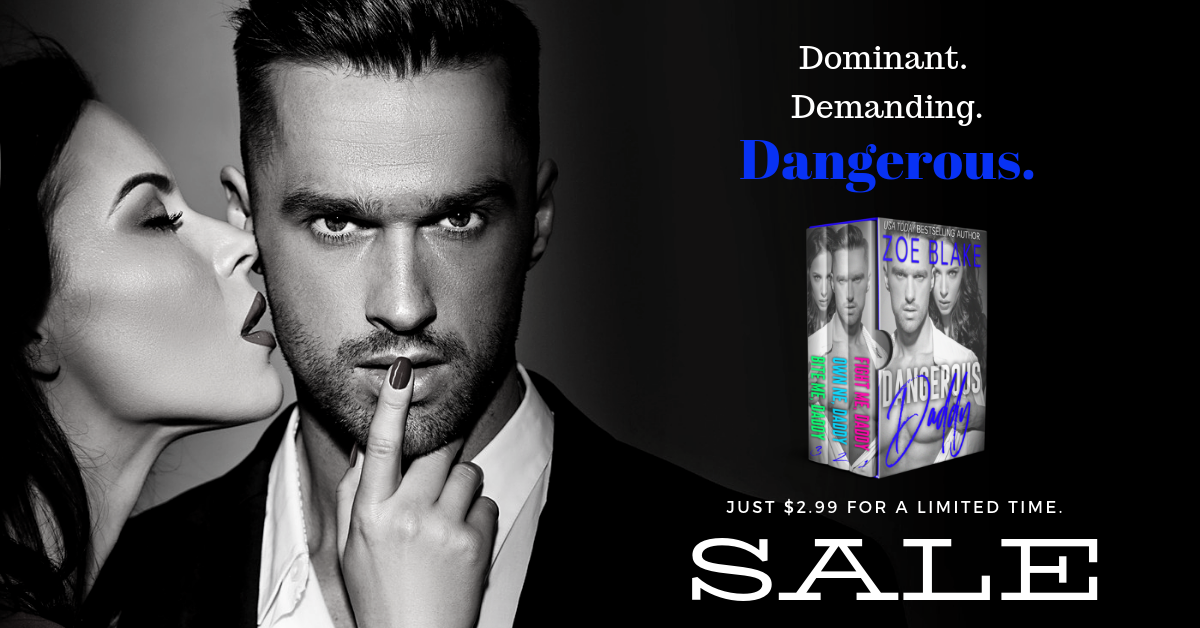 DANGEROUS DADDY
BOX SET
by Zoe Blake
SALE!!!

SALE!!! The Dangerous Daddy Box Set by Zoe Blake is only $2.99 for a limited time (reg. $6.99). Start the series with Fight Me, Daddy on sale for only 99c (reg. $3.99). Read both for FREE in Kindle Unlimited!!!
"Dark, sexy and hot! Three words to sum up this book. If you love daddy, alpha men definitely a must read." – Sweet & Spicy Reads
"super sexy and smoking hot dark romance! …this book is sure to become your next guilty pleasure!" – Lipsmackin' GoodBooks
US: https://amzn.to/2X36x2r
UK: https://amzn.to/2R2LVSH
CA: https://amzn.to/2XGMT9M
AU: https://amzn.to/2KckF3w
DANGEROUS DADDY BOX SET 
Dominant. Demanding. Dangerous.
You don't want to cross these Daddies.
#1 Fight Me, Daddy
No one screwed with him…ever.
Logan had a fierce reputation.
He was cruel, calculating and very dangerous.
Above all, he got the job done – by any means necessary.
When he is hired to retrieve information from a young woman who has fled to an isolated cabin, he decides to amuse himself with the powerless female.
He'll make her submit to his every depraved desire.
Subjecting her to pain and punishment, he won't relent, not even when she submits and calls him Daddy.
She can beg and plead her innocence all she wants, but he won't stop.
And if his little plaything decides to fight him?
Even better.
#2 Own Me, Daddy 
Michael was a Marine, hard-wired to conquer and claim.
When Phoebe walked into his office lying thru her pretty red lips, his first impulse was to throw her over his desk and take possession.
The more she tried to deceive him, the more determined he became to bend her to his will and maker her call him Daddy.
She was about to find out how dangerous it was to deny him.
He owned her, whether she liked it or not.
#3 Bite Me, Daddy
Paine was not just his name, it was his profession.
So when an upstart thief tries to kill him, he can think of nothing more pleasurable than teaching her a very painful lesson.
She was about to learn how Paine earned his dangerous reputation.
He would have her on her knees, begging him not to hurt her, submitting to his demand to call him Daddy.
And if his little kitten showed her claws and sharp teeth?
Daddy will bite back.
Start the series with book 1, Fight Me, Daddy – only 99c for a limited time!

US: https://amzn.to/2F375ep
UK: https://amzn.to/2KE2a7q
CA: https://amzn.to/2IBnTKt
AU: https://amzn.to/2K94N1F
Free in Kindle Unlimited