Excerpt Reveal for Tangled Up in Christmas by Lisa Renee Jones
 COMING SOON  

Tangled Up In Christmas
by Lisa Renee Jones
Release Date: October 29, 2019
He wants to try to explain the past. He needs to try to explain. But that's not what I need. That's not what I want. That is not where I find my Zen whatever that really even is, my center, I guess.
The elevator halts and as we wait for the doors to open, I feel the tension rising inside me. I don't want to hear his reasons why. I don't want to revisit what I felt back then. I will not listen. I pull my hand away from his and turn to the door. It opens, and I'm in the hallway in an instant. Roarke steps to my side and motions down the hallway. I'm going to his hotel room. I could ask for my own. I could ask, or even insist that we go downstairs, but those things don't work for me but I know what does.
We reach the door, and he swipes his card, pushing open the door. Without hesitation, I enter the room and I don't even see the space before me. I whirl around to face him and when he shuts the door and locks it, I'm right there waiting. The minute he turns to face me, I'm standing in front of him, pushing him against the door. "I don't want to hear why. Ever. Do not open your mouth and give me a reason because it will only piss me off. It's done. That part of us is done. We are—"
He catches my hips and turns me. Now my back is against the wall and his powerful thighs cage mine, his hands cupping my face. "We are anything but done," he says, and then his mouth is on my mouth, his tongue licking past my teeth, caressing deep.
I moan with the taste of him, wicked and wrong and yet oh so right. I want this. I want him, but this has to be on my terms. I shove on his chest, tearing my mouth from his. "This means nothing. You aren't forgiven. We aren't us again. We aren't—"
"We never stopped being us, Hannah. If that's not obvious to you, it is to me. I'll show you."
"Don't show me. Just—just kiss me."
"I don't need to be told twice. Not where you're concerned." And then he's kissing me again and I don't stop him this time because if I do, I'll think too hard, and that's not an option. I don't want to think. I don't want to talk. I just want to feel this man close, one last time. That's all.
One.
Last.
Time.
A proper goodbye.
The one I never had.
The one we never had.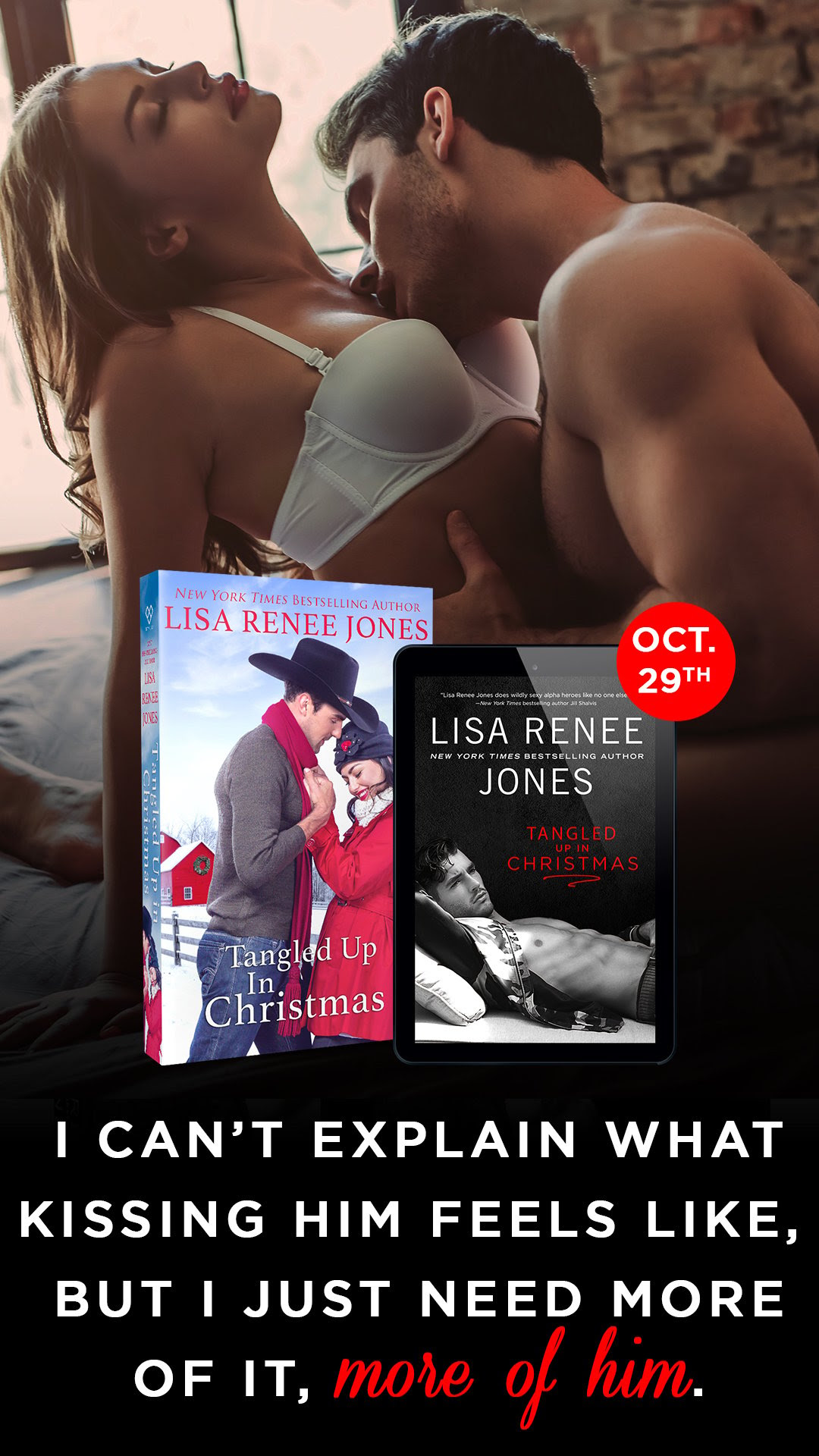 To celebrate TANGLED UP IN CHRISTMAS releasing on Oct. 29th, Lisa Renee Jones is giving her readers a special opportunity! When you pre-order the book and fill out the form below, you'll be registering to receive a FREE EBOOK from her backlist and you'll be entered to win 1 of 500 COWBOY PINS (as seen above)!  
REGISTER YOUR PRE-ORDER HERE
PRE-ORDER TANGLED UP IN CHRISTMAS